June 29, 2015
In the past few months, I've lost friends, a brother and a grandson.
Our families and friends are all around the country and we want to spend time with them while WE can.
So we have begun the process of moving. Selling our stuff and then our home.
Then we will get (probably) a truck and fifth wheel and then visit them all. Spend quality time with them, as long as they want us. No time restraints.
To this end we had an indoor-outdoor yard sale this past Friday and Saturday.
Exhausting, but quite successful in dollars taken in and stuff gotten rid of.
Amazing, we feel so much lighter all ready.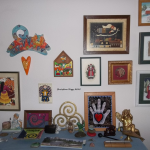 Just taking down all my beloved pictures on the wall across from my desk that I see every day and instead, looking at a clean bare wall (well, part of it anyway) has given me a sense of ease and relief.
Someone once gave Rick and me the moniker of the "Gypsy Riggs". That is about to become even truer.
So, stay tuned for further installments from the Gypsy Riggs Journal.