Touched by an Angel
Rick, Tori and I braved the steady, relentless, West Canadian rain to walk to the store, several blocks from Tori's home. It was back in '99 and Rick and I had stopped in Port Alberni, on Vancouver Island, on our way to Alaska.
Come to think of it, Rick was the only one walking. Umbrellas in hand, Tori and I were laughing while singing and dancing our way down the street, Gene Kelly style, belting out, "What a glorrrriiiious feeeling – I'm haaappy again."
Oh, those were the days. And Tori was more than a friend. She was my angel friend. Shortly after we met, in Tombstone, Arizona, the TV show, Touched by an Angel, premiered. We watched it together and enjoyed it so much we soon established a weekly ritual at her house, dinner and the show.
About 5 years later, I moved to New Mexico. Then Alaska, Colorado and finally, Oregon. Tori eventually went back to Canada, where she was born.
Wherever we went, the angels went with us. Birthday gifts and Christmas presents were angel coffee mugs, candle holders, and tee shirts. They were usually acquired at the 5 and dime (I guess now it's called the dollar store) or yard sales, but it didn't matter. We cherished them all. If one of us got 10 small presents from the other for Christmas, 8 or 9 would be angels.
Over the years, a host of angels passed between us.
And too, there was something angelic about Tori. It wasn't the melodious lilt of her voice. Nor was it the way she could turn a dreaded, boring trip to Tucson, into a delightful adventure. It was more than the fact that she lived with joy, and possessed a generous, loving spirit. Or that she thought the best of everyone and every situation.
It was her innocence, her purity. She looked at the world through a child's eyes, with awe and wonder. Not with the cynicism and disillusionment of so many folks who have been around for over six decades.
I didn't talk to Tori as frequently our first winter in Oregon as I had in previous years. We had only an expensive pre-paid cell phone and I was trying to keep costs down. When I called her in March, it was a friend who answered Tori's phone. The friend who brought Tori home from the hospital. The friend who was with her that last week, that last day, that last moment. The friend who said that Tori died like she lived, with dignity and grace.
This friend also told me that Tori would not talk to anyone; she refused all calls.
What about me? What if I had called sooner? Didn't she want to talk to me? Why didn't she call me? Omigosh, did she even have my number? Did I ever give it to her? I didn't think so. Suppose she wanted to talk to me? What if, when she needed me most, I wasn't there for her?
The void seemed to devour me from the inside out. Guilt and unanswered questions pressed on me for five months, until one day in August, I knew I couldn't take anymore. I had to let it go.
So I talked to Tori. "I'm so sorry I wasn't there for you. Please tell me everything's OK, that you're not mad at me, or hurt by me, or disappointed in me. Please tell me everything's all right between us. Send me a sign. An angel would work. Send me an angel."
I waited. The rest of the day . . . nothing. No sign. No angel.
I greeted Rick that evening when he came home from work. We talked for a few minutes, then he said, "Oh, I have something for you."
Earlier that day, he had noticed a helium filled balloon, bouncing along the gutter across the street. It then crossed to his side of the road and along the sidewalk in front of his work. There was no one around. No traffic, no pedestrians. As he snatched the balloon up before it could get away, he noticed the weight at the end of the ribbon and figured, "This must be for Chris."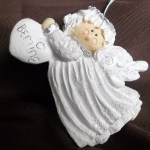 He retrieved the balloon from the car and handed it to me. The balloon was plain gold, as was the ribbon. But the weight at the end of the ribbon – that weight lifted the weight of the world off my shoulders. That clay creation that looked like a handmade dough cookie, was one of the most beautiful things I've ever seen. With her white dress, white wings, rosy cheeks and silver halo, my angel was holding a heart that said, "Be mine".